Experience and Passion
As part of the creative team that launched the first Interior Design Showrooms in Ireland over thirty years ago, I developed an early understanding of what it takes to pull visual and practical elements together into cohesive designs, and to work with architects and other professions.
Today I am still driven by that same passion for artefacts, colours, fabrics and furniture, and Interiors that Sing.
Over the past 25 years I have worked extensively in Ireland and abroad and provided all levels of service from discrete re-styling commissions to full scale construction, restoration and renovation works.
Aesthetics
It is critically important with any project that I engage sensitively, fully and freely with clients.
My job is to interpret your taste and preferences, and facilitate the smooth running of schemes from design stage to completion, whether traditional or contemporary.
Employing a professional Interior Designer takes the worry out of finding and managing different trades, and saves you money by ensuring a fantastic result the first time and within budget.
Over the past 30 years I have assembled a network of highly skilled and dedicated bespoke craftspeople whose services are available to clients.
For example, at the moment the trend seems to be to paint everything in one block colour either grey or beige, I think this can be dangerous.
If you get tired of it in one area you will be tired of it everywhere.
I am working on a house at the moment which was decorated in this way.
The clients grew tired of it but couldn't pin point anything in particular.
We are gradually adding other colours in each of the rooms and they are delighted with the transformation.
---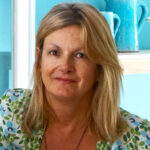 We can also introduce you to what's hot and what's not, and where savings can be made. You get all the fun of choosing, without the pot-holes. Let me know about your interior plans and aspirations, and let's work together to make them a reality…